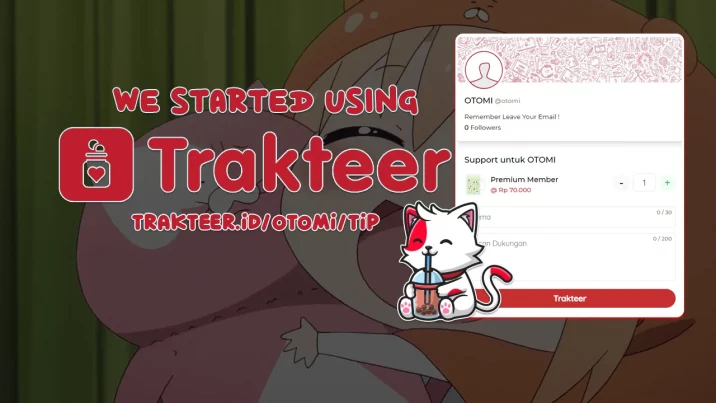 We have started using Trakteer.id as a payment method for people from Indonesia. This platform supports most of the popular payment methods in Indonesia including bank accounts, e-wallets, VISA… If you are from Indonesia, we would appreciate it if you could spare a little money to help us maintain the website and pay for other services.
Login page: https://otomi-games.com/login. Since Trakteer does not yet support automatic API, we need to create a manual account on the website when you successfully pay on Trakteer. Account creation takes about 2 – 12 hours (usually sooner). Regularly check your email (used to sign up for Trakteer) for a link to set up a password. The email has the following content:

Login information:
Username: Trakteer email
Password: set by the step above
69.000RP (30 units)/month
We only accept full payment of 30 units (69.000rp) to set up premium member account. If you pay less, your money will be considered a donation and we are grateful to you for this.
If you want to pay for 2 months or more, multiply the number of months you want by 30 units to get the amount you need to pay.
Example:
1 month = 30 (units) = 69.000rp
2 month = 2 * 30 (units) = 60 (units) = 138.000rp
3 month = 3 * 30 (units) = 90 (units) = 207.000rp