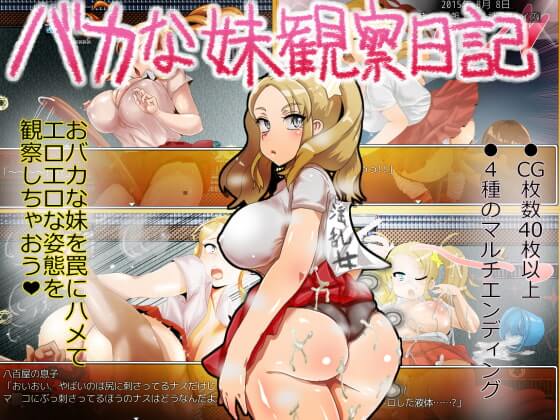 Bakana Imouto: 10 Days A Bitch Free Download with Direct Links, Google Drive, MEGA, Torrent.
INFORMATION
Release Date: 2015-07-28
Developer: Breast Mafia
Censored: Yes
Version: 1.11
Language: English
Translator: Mediocre Translation
ABOUT THIS GAME
Bakana Imouto: 10 Days A Bitch Free Download with Direct Links, Google Drive, MEGA, Torrent.
[Premise]
Set erotic traps for your little sister to turn her into a nymphobitch.
[Story]
As summer vacation started, the phone rang. It was their mother from overseas.
Mama: "Noa, how would you like to visit me in Italy?"
Noa: "Absolutely! I'll see you in 10 days! I'm so sick of big brother."
(Listening through the wall)
Brother: "Oh no… Noa is going to study in Italy?" (mistaken)
"She'll never come back. I've got 10 days to stop her while she's in Japan!"
Fueled by a wrong assumption, big brother laid erotic traps to catch Noa.
[Game]
This game takes place during the height of Japanese summer:
August 1 to August 9, also a major time for holidays.
Dedicate yourself to converting Noa into a craven slut!
You have until August 10th.
Meet the right (or wrong) conditions for 5 possible endings.
(The true ending is unlockable in the 2nd or later playthrough.)
HCGs comprise over 90 images incl. variations. There are 40 rewatchable scenes.
(More scenes may be added in future updates.)
[System]
Noa's guidance
Choose from 4 conversations at breakfast to determine which Noa's schedule.
Set traps
Each map area can be rigged to catch your little sister. Lay the traps in this phase.
Noa's progress (Automatic)
Noa will go about her day, triggering traps in each location, etc.
Combos
You can set up traps to trigger in succession for higher values and AP (brother points).
Certain events may trigger when you meet criteria like "6 or more times with same trap".
Panties
Panties are the game's collectibles. Discard them, receive them, even wear them.
Some panties have particularly high value and require subevents.
Inventory expansion
Customization and minigame
Message skip, CG gallery, replay modes
[Characters]
Noa – the stupid little sister, and kind of provocative
Big brother – the player character; customizable name
Misato – Noa's best friend, a paradox of properness and slutty hotness
Mom, dad – on vacation overseas since last month
DOWNLOAD
Google Drive – MEGA – MegaUp – LetsUpload – Uploadhaven – Racaty – Pixeldrain – Bayfiles