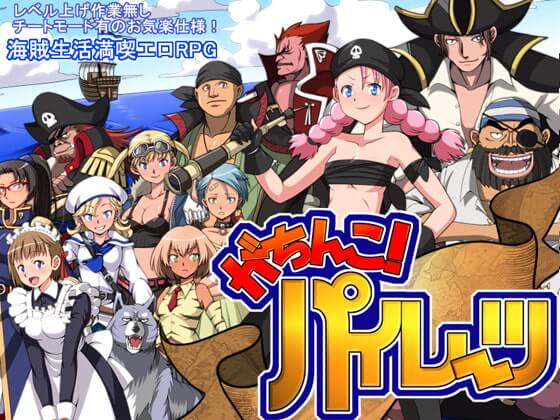 INFORMATION
Release Date: 2020-01-14
Developer: Pon de Ushi
Censored: Yes (Mosaic)
Version: 1.03
Language: English
Translator: Emerald_Gladiator
ABOUT THIS GAME
■ Game Overview
Pirate life enjoyment erotic RPG!
In fact, you were the son of a legendary pirate!
You become a pirate by being invited by the pirate Bebecchio who was a subordinate of your father, and you will fight 10 pairs of pirates for supremacy of this sea.
Rival pirates are all those who have one habit and two habits.
In some cases, you may become a companion, so increase your companionship and strengthen your pirates.
If you can subordinate the female pirates, you can have them serve!
There are several port towns in the sea.
It is a rough port town where pirates often stop by.
In a port city, you can do business, gather information, and attack the town.
You can subordinate or overrun by defeating a port city.
If you subordinate, you will have a mistress in the town,
Of course, you can also use it as a handbag!
You can steal money and supplies by attacking merchant ships and villages.
Once you've saved the money you've stolen, you can build a new ship or modify an existing one.
Strengthen your ship and challenge even more powerful enemies!
Then defeat all the pirates and aim to become a pirate king who couldn't even be a father!
(Machine Translation)
Important
WinRAR config before extract.
Change locale to Japanese or use Locale Emulator to run game.
DOWNLOAD
Google Drive – MEGA – MegaUp – LetsUpload – WorkUpload – Racaty – Pixeldrain – Bayfiles
DIRECT LINK (Patreon Only)