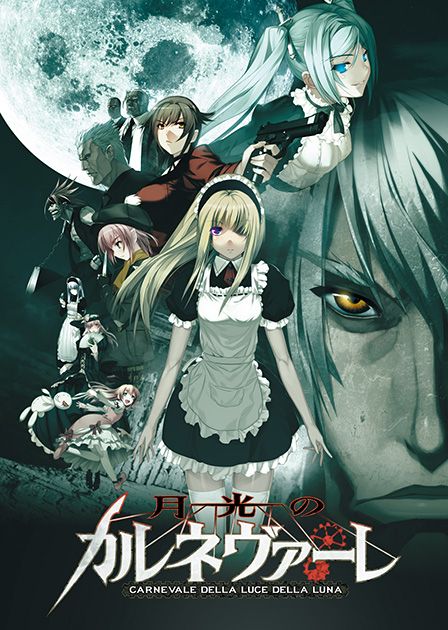 Gekkou no Carnevale/ 月光のカルネヴァーレ Free Download with Direct Links, Google Drive, Torrent.
INFORMATION
Title: Gekkou no Carnevale
Original title: 月光のカルネヴァーレ
Length: Long (30 – 50 hours)
Year: Japan 2007-01-26, English Patch 2020-12-25
Developer: Nitroplus
Publishers: Nitroplus
Language: English
Voice: Japanese
Translation: George Henry Shaft
Censored: Yes (Mosaics)
ABOUT THIS GAME
Gekkou no Carnevale/ 月光のカルネヴァーレ Free Download with Direct Links, Google Drive, Torrent.
The story is set in Belmonte Calabro in Italy. Belmonte is the city of filled with Automatas and boasts the biggest number of Automatas produced a year.
Automatas are androids. Mechanical beings created from nothing. Most Automatas can be easily distinguished from humans due to their robotic faces but there are the Antique Dolls, which looks exactly the same as humans with only their eyes giving away who they really are.
You start off as Romeo, a slack taxi driver who absolutely stinks at going around the city with his taxi. Or that's what he looks like from the outside.
But the truth is, he's a runaway werewolf from the Orma Rossa, the only remaining werewolf clan.
He lives together with Anna, an Antique doll he picked up from the dump after he left the Orma Rossa. She doesn't have any memory of the past. So she's living happily with Romeo.
But pleasant times never continue for long. Orma Rossa do not feel like ignoring Romeo any longer and the group called Luparia (the archnemesis of the werewolves), is moving behind in the shadows. Romeo will find himself surrounded by both new and old foes. This time, their target may not only be him…
[Edited from a review by Accany]
[spoiler title="READ ME!!!"]
You need to change system locale to Japanese.
Run runme.reg (it will automatically enter the serial key)
WINDOWS 7/ WINDOWS 10 WARNING:
The VN tends to freeze requiring termination from task manager whenever menu functions are used.
The workaround is to use keyboard shortcuts, which work fine.
DO NOT TOUCH MAIN MENU FUNCTIONS OUTSIDE OF 'START' AND 'EXTRAS'.
DO NOT RIGHT CLICK WHILE PLAYING.
Use these keyboard shortcuts:
C Config menu <- USE THIS ON THE MAIN MENU AS WELL
L Load menu <- USE THIS ON THE MAIN MENU AS WELL
S Save menu
WINDOWS 10 WARNING
Opening video visuals may freeze after roughly 1 second. It is recommended to disable movies in the config menu.
Or just listen to the song to the end without visuals, the game hasn't locked up.
The video is unsubtitled due to technical issues.
You can view a subtitled version of the video at any time with your favorite media player, the file is Subtitled Opening.m4v under the Extras folder.
[/spoiler]
DOWNLOAD
MEGA – MegaUp – Racaty – Pixeldrain – Gofile – Uploadhaven
CG GALLERY