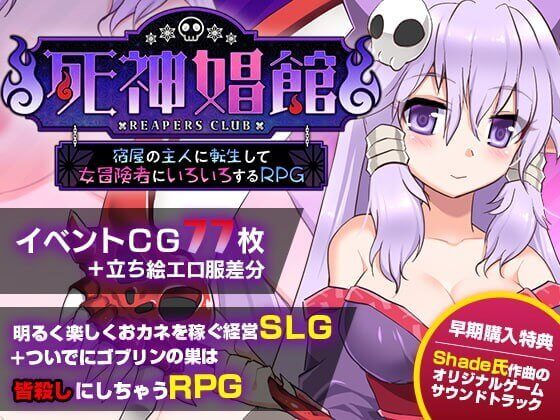 INFORMATION
Release Date: 2020-02-21
Developer: Circle Meimitei
Censored: Yes/Mosaics
Version: Final
Language: English/Japanese (MTL)
Length: Very long (> 50 hours)
ABOUT THIS GAME
This game is basically a mix of the anime: Re Zero/Goblin Slayer and some harem heaven lol
you will know what i mean once you play it
The Story is about a young man who died when he woke up it was a magical fantasy world with swords
The man who picked up as a hero by Shine of the Shinigami "WAIFU DESE" was inevitably empowered and used as a "Shinigami Act".
The only purpose is to avoid the "catastrophe" that eventually leads to the world and destroys humanity,
However, the god of death cannot interfere with this world, and the job of "God" is to guide people in this world.
Inspired by the greedy "Death Reaper", he manages a private adventure guild "inn" to attract adventurers.​
DOWNLOAD