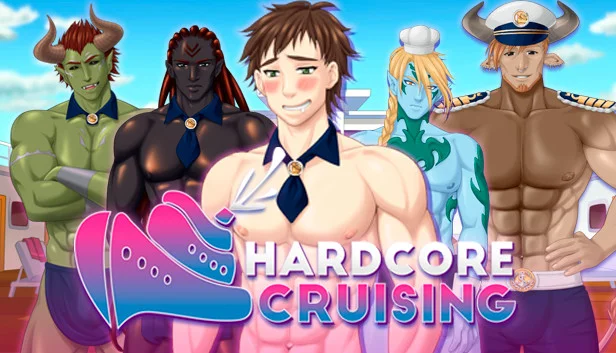 Hardcore Cruising: A Sci-Fi Gay Sex Cruise! Free Download with Direct Links, Google Drive, MEGA, Torrent. All aboard the HMS Size Queen! New crewman Milo Barre has started work on his first cruise. He always dreamed of working for this illustrious cruise line, but his big brother bullied him by saying he wasn't slutty enough to make it. Can Milo prove him wrong and be the sluttiest cabin boy on the ship? His lifelong dream is on the line!
Hardcore Cruising is about a sci-fi gay sex ship that cruises the seas as well as the heavens. The crew have normal jobs you'd see on any cruise ship, but are also enthusiastic sex workers there to make the guests naughtiest dreams come true. Join Milo on his first cruise where he proves his worth and falls in love with one or two of his shipmates.
Featuring numerous fully animated sex scenes, polyamorous or monogamous options in every route, and loads of sex between the crew and with the guests, Hardcore Cruising will take you away on an erotic voyage you'll never forget!
Title: Hardcore Cruising: A Sci-Fi Gay Sex Cruise!
Developer: Y Press Games
Publisher: Y Press Games
Release date: 29 Jun, 2022
Version: Final
Language: English (Official)
Censored: No (Uncensored)
Store: Steam