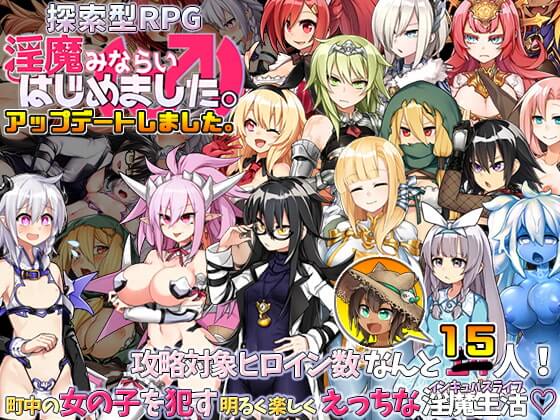 INFORMATION
Release Date: Japanese 2018-10-28, English 2020-08-29
Developer: TashiKani
Translator: Gba
Censored: Yes (Mosaics)
Version: 2.2
Language: English
ABOUT THIS GAME
[Story]
"The reason I came here was for you. To recruit you as an Incubus!"
By day, a maid at the castle… by night a toy for sexual gratification.
Such a young boy Shiro is turned into a half-human half-demon
Apprentice Incubus at the hands of a mysterious white succubus.
At first he is bewildered but no sooner than later has he accepted the
pleasures and enjoying his new found life. Though while he may now be free,
in exchange for such freedom, he is dragged into a whirlpool of troubles……
What is the objective of the white succubus—-?
What will Shiro's fate hold in store for him—-?
[Game Overview]
Exploration Style RPG with NO BATTLES.
The following 3 points will be key to clearing the game.
(1) The flow of time
Different time of day means different events and people in different places.
(2) The protagonist Shiro's state / condition
When Shiro is aroused, he will transform into his Incubus form
and conversations will change to reflect his different appearance.
(3) Demon Eye
When in Incubus form, Shiro can use his Demon Eye to search for hints on the map.
Utilize these elements to your advantage, talk and interact with the townsfolk
and try whatever you can to get yourself into the heroine's pants!
[H Scenes]
15 heroines
84 erotic scenes in total
57 base CG / 946 total variations
Variety of situations, indoor, outdoor, exhibition, humiliation, bondage, r*pe,
anal, hardcore contents, lovey dovey sex, futanari (d*ck girls), reverse r*pe, etc…
DOWNLOAD
Google Drive – MEGA – MegaUp – LetsUpload – WorkUpload – Racaty – Pixeldrain – Bayfiles
DIRECT LINK (Patreon Only)