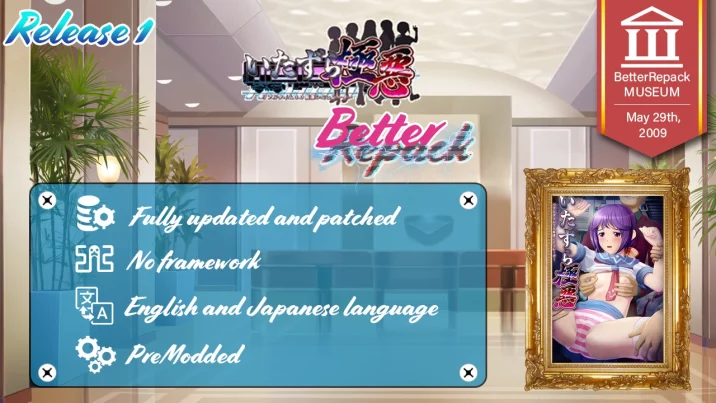 Itazura Gokuaku Free Download with Direct Links, Google Drive, MEGA, Torrent.
Itazura Gokuaku (いたずら極悪) BetterRepack R1
Name: Itazura Gokuaku (いたずら極悪)
Developer: REAL
Release date: 2009/05/29
BetterPack by: Screw This Noise
BetterPack publisher: Otomi Games
BetterPack version: R1 (Oct 20, 2021)
Official Release by Otomi Games
Premium links will auto show when login!
Museum packs are tested to the best of my ability, but will sometimes carry instabilities due to the nature of making packs for older games using really picky old japanese engines.
I do take reports about problems, but I may not be able to fix it. Communities for Museum packs are either super small or straight up nonexistent, so don't really often have many other users to lean on for really troubleshooting, and problems may just be "this game meant for windows xp, you windows 10, I die now" or "oooh, shiny new space age hw, I don't like it, I'm gonna go die now" and nothing much I can do about that.
Only guarantee when releasing a Museum release is that I managed to get it running in a sufficiently stable state on my setup, 2 different machines with differing hw, both windows 10 ( it runs on my machine ™️ )
TLDR: Support is given on a best effort for museum releases, but may or may not be efficient in solving any problem that arises