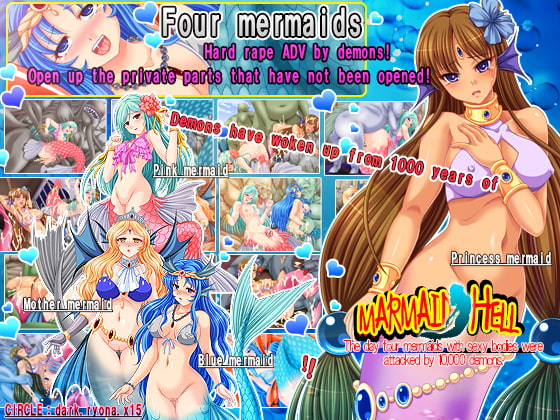 Mermaid hell – The day four mermaids were attacked by 10,000 demons. Free Download
INFORMATION
Title: Mermaid hell – The day four mermaids were attacked by 10,000 demons.
Publisher: dark.ryona.x15
Release date: Jul/15/2020
Language: English (Official)
Censored: Yes (Mosaics)
ABOUT THIS GAME
Mermaid hell – The day four mermaids were attacked by 10,000 demons. Free Download
* About the game
The demons had come out of 1000 years of being downtrodden. They numbered 10,000 or more.
What the mermaids were headed for was the island where the beautiful mermaids lived…
There, a mother and her three mermaid daughters lived.
The mermaids were just prey. They were just prey for the demons to satiate their lust on.
Mermaids are fish from their waist down.
Humans call them mermaids.
However, mermaids have a crack in their crotch and they still have organs that can be used as genitals.
They have a good amount of meat on them, they all have firm breasts, thin waists and big arses.
It is because they are so beautiful that they get attacked by demons.
The demons constantly strive to widen the cracks in their private parts.
It is not a problem that their legs don't open. Even if their crotches are closed, they can be forced open and the mermaids violated!
The mermaids' cunts behind their crotches that will not open will now get opened for the first time.
The demons first assaulted the mother. Then then attacked the daughters as they tried to flee.
They were unable to flee into the sea where boundaries had been set up. The mermaids were caught in a flash.
Even if the daughters were saved, they were beaten in front of their woeful mother, their cracks were discovered, and they were hard raped!!
The demons kept prodding even if they shouted 'Mama! Mama!' Gang rape and cream pie! They were repeatedly fertilized!!
This is the story of the end of the mermaids whose cries echoed around the island.
Demons were filled with craziness releasing sexual desire that had built up for 1000 years…
They raped the mermaids, and mercilessly thrust in their huge penises. This is a young-breeding adventure RPG.
Please note that this is a screaming, wailing hard rape work.
(There are no dissection or bleeding scenes)
There are a total of 12 erotic illustrations, and 10 animatiions.
We requested the help of an after-effects expert, so the nipple-shaking and in/out animation has a lot of power.
We used the voices of both "Fan Seiki" and "Shiori Manaka".
They created screaming mermaid voices with real power so please take this chance to listen to them.
The content of this is hard rape of beautiful mermaids.
This is a work using the RPG tool VXACE. There is no need to install anything.
There are no elements involving increased levels.
DOWNLOAD
Google Drive – MEGA – MegaUp – Uptobox – WorkUpload – Bayfiles – Pixeldrain – Gofile – Uploadhaven