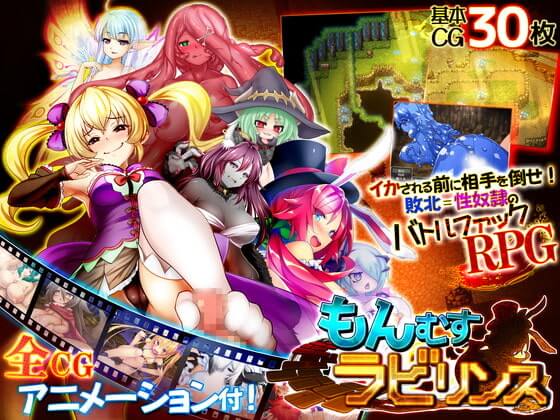 Monster Girl Labyrinth Free Download with Direct Links, Google Drive, MEGA, Torrent.
INFORMATION
Release Date: 2018-02-15
Developer: Dieselmine
Censored: Yes (Mosaics)
Version: 1.0
OS: Windows
Language: English (Fan Translation)
Translator: maidenmasher
ABOUT THIS GAME
Monster Girl Labyrinth Free Download with Direct Links, Google Drive, MEGA, Torrent.
[Concept]
—————————————————————————–
In search for a missing villager, the protagonist eventually arrived
at a mysterious underground ruin, a habitat of various types of monster girls.
To escape from there alive or to be r*ped and made into a slave…
Which fate will he attain? A "Battle F*ck RPG where you sex your way to the exit!
* Synopsis
—————————————————————————–
One day, the protagonist is informed that a villager went missing so
heads to a mysterious ruin. However, he falls for a trap at the deepest floor.
Soon after he realizes that he has fallen to an underground cave.
There are a lot of monster girls that sexually assault humans!
He finds a note of somebody, telling him that if he cummed in intercourse
with any monster girls, he will be paralyzed and made into their slave.
To get out of this underground dungeon, he has to overcome many temptations!
* Features
—————————————————————————–
– The battle is sex! He becomes a sex slave if he cummed! A "Battle F*ck RPG!
– CGs are all animated! Monster girls plays with the protagonist in various moves!
* Situations
—————————————————————————–
– Cumsucked by slime in bouncing cowgirl sex!
– Given face sitting and footjob by a young witch!
– Cumsqueezed by a titty devil with her special move!
– One-eyed "Gazer" makes him gradually petrified during cowgirl sex!
– Given fierce titjob by a little yet bursting busty automata!
– A ghost sucks up his life force in fellatio!
– Shoved in and out by the Queen Elf in pile driver position with both legs grabbed!
* Characters
———————————————————————————–
[Aberry] CV: Ryou Suzuki
The Kobold lord who is at the head of monster girls in the cave.
Unlike other Kobolds, she sucks human's semen in fierce sex like a beast.
[Olivia] CV: Yotsuba Tsuyuri
The Queen Elf who governs a community of Elves and fairies.
Treats sex slaves harshly despite her easygoing personality.
[Amelia] CV: Yotsuba Tsuyuri
A preppy witch girl who is a bit slow-witted and clumsy.
Not good at delicate kind of magics though having a lot of mana.
Helped by the protagonist when she was somehow caught in a hole, but…
[Abigail] CV: Ryou Suzuki
The head of witches. The shortest witch but having the biggest
tits at the same time. Knowing very essences of all magics.
[Chloe] CV: Mafuyu Hiiragi
A wererabbit who controls a certain facility in the underground ruin.
Doesn't show emotional ups and downs so much.
Shows up everywhere but doesn't stay for a long time.
[Eva] CV: Chiroru Ohyama
The demon lord who was defeated by the hero in past.
Looks small but her magic is stronger than any other.
Concentrating on healing herself in a certain way.
[Ohm] CV: Satsuki Akushiro
A slime that has experienced mutations. Exists somewhere in the ruin.
The body absorbs everything like endlessly spreading.
Read more at: DLSite
DOWNLOAD
Google Drive – MegaUp – LetsUpload – WorkUpload – Uploadhaven – Racaty – Bayfiles