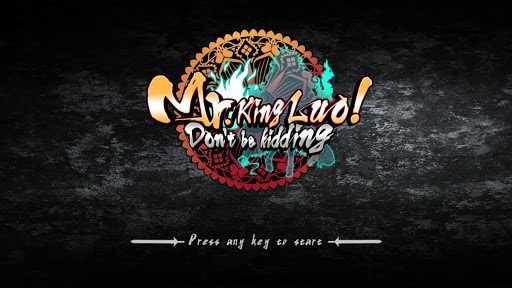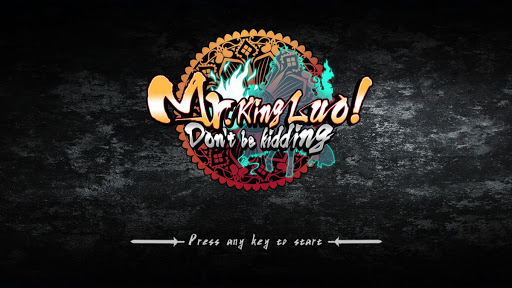 INFORMATION
TITLE: Mr.King Luo!Don't be kidding
GENRE: Indie
DEVELOPER: 艾斯貝洛, koloro
PUBLISHER: Gamera Game, 艾斯貝洛
RELEASE DATE: 11 Feb, 2020
ABOUT THIS GAME
Due to a chain of unexpected events, Fong-Dai Zong ends up in the netherworld with the shocking news of his death from the judges of hell.
On his way being escorted to the judges, he escapes and meets a mysterious old man fishing by a river.
The old man advises him: "There is only one way to escape the netherworld and return to the land of the living….."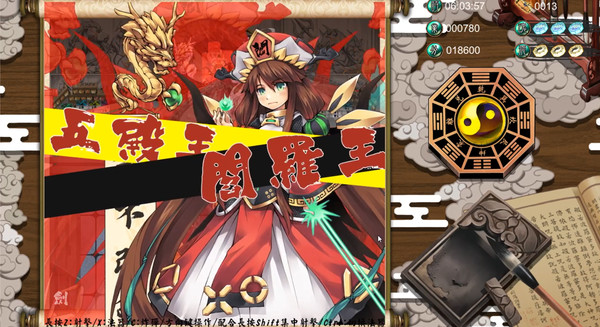 With levels of all difficulties suitable for beginners and experts, this game allows the player to enjoy the thrill of dodging and shooting!
State-of-the-art animation and artistic touch create a realm unique to each stage!
Distinctive characters and a story with quirky twists, punchline everywhere that you can't hide from.
Brand-new style of Ink wash painting makes characters elegant but not rigid!
Diverse collectibles and secrets await your discovery!
Collect scroll of anecdote, discover the unknown secrets of Yamaraja!
The keeper of the book of life and death, judge of the deads' future in the netherworld. When a deceased come to her hall, it will be led to the mirror of truth on the right side of the hall, if one was righteous then it will be led to heaven or nirvana. If one had done an equal share of good deeds and misdeeds then it is sent to the ten different halls for reincarnation based on the good deeds and misdeeds. If one has done more misdeeds than good deeds then one is sent to all the halls for sentencing and shall endure all types of punishments.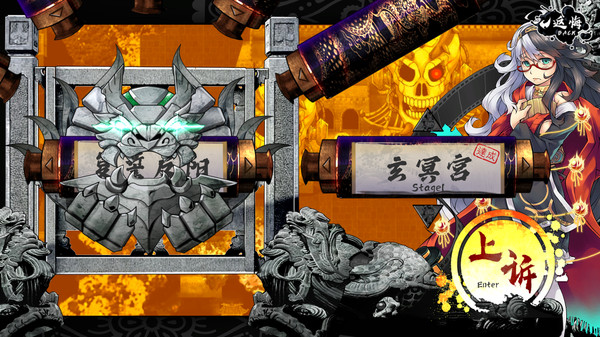 The judge for those who did not believe in karma prevented others from doing good deeds, slandered the teachings of Buddhism. Those who arrive at the hall can get on the observatory of the homeland, take a peek at what is happening there, to temporarily scratch the itch of homesickness.
King of the bottom of the ocean, the hell underneath the rock on the most eastern point. This hell is eight thousand miles wide with sixteen sub-hells used to try those who had evaded tax, refused to pay a debt, committed frauds.
A trusted advisor who shoulders the heavy workload of Yamaraja. She takes care of all the trivial things in Yamaraja's daily life up to determining the sentence in the hall. She reads the deceased's sins by the judge's desk with great articulation, the dignity she exudes is parallel to that of the judge's.
An ordinary nine-to-fiver who surmised to accidental death. Often receives bizarre replies on his quest to find out how he died. Perhaps it is due to his family's hereditary powers of Taoist priest, he can fend off demons and spirits in the netherworld. And the mysterious old man seems to believe this kid can accomplish what seems like an impossible mission.
A kind old man who fishes beside the Sanzu River. He is neither a sinner nor a sorrowful spirit. His casual clothing does not mesh with the grimness of the netherworld. The calmness of his speech coupled with his peculiar topics makes him a mysterious and dominant figure.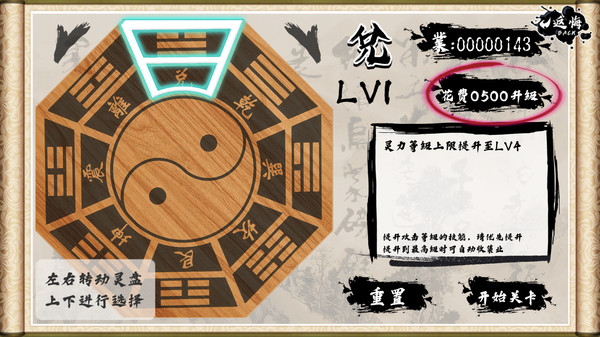 arrow key:move
Z:shooting
X:use weapons
C:bomb
shift:slowmode
ctrl:change weapons
ESC:pause
L3:move
□:shooting
○:enter
Χ:change weapons / cancel
R1:use weapons
R2:bomb
L1:slowmode
DOWNLOAD
Google Drive – MEGA – Uptobox – Rapidgator – MegaUp – Letsupload – Uploadhaven – Filerio – Racaty – Uploadhub – Torrent