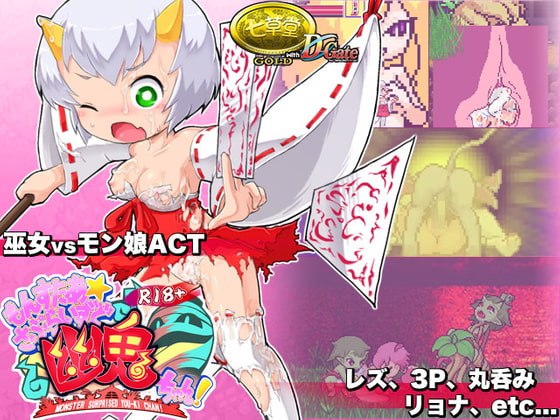 R18+ Monster Girls You-kichan! Free Download with Direct Links, Google Drive, MEGA, Torrent.
INFORMATION
Title: R18+ Monster Girls You-kichan!
Publisher: nanakusadou
Release date: Apr/11/2021
Last updated: Jan/10/2021
Version: 1.02
Language: English (Official)
Censored: Yes (Mosaics)
ABOUT THIS GAME
R18+ Monster Girls You-kichan! Free Download with Direct Links, Google Drive, MEGA, Torrent.
That's right, the brutal ryona action game is back, with all the juicy adult-only content you've been lusting for. The simplistic yet intense gameplay remains, with tons of added pixel-art ero! Including a shrinkifying stage, and lots more vore. The vore is a given, but you can also enjoy lots monster girl lesbian action too (3-ways too!)
– 40 pixel art ero patterns, 8 vore patterns
– Fully unlocked gallery mode – See all the goods from the start!
– 2-button control with a variety of weapons
– Take the fight in four directions by clinging to the walls and ceiling!
– Easy mode included
– Auto-save, stage select functionality included!
[Gallery unlocked from the start!]
Yep, that's right. See all the glorious H-scenes with no hassle!
Change speed, pause, auto, manual & zoom functions let you enjoy the ero as you prefer!
It's not just Youki getting in on the action!
The cute monster girls go at each other too!
After all, in this world, love juices are energy~
[Ero, Ero, Ero!]
It's no just ero!  
There's lots of vore too!
Including an all new "minimum stage"!
In cooperation with that famous vore circle D-gate, Youki has been minimized,
and is in a dangerous world!
Enjoy the thrilling action and glorious vore! Fans of the R15 release will be sure to enjoy it as well!
R18+ Monster Girls You-kichan! [七草堂]
Easy mode halves damage taken, and puts your damage into overload!
There's also a cheat for lives, so don't worry!
Anyone can beat the game now! Even grandpa!
[Ero, Ero, Ero!]
When captured and fondled, your ero gauge builds.
When the blue gauge fills up, the fondling reaches another level, and the pink gauge begins to fill.
When that's full, you climax and lose a life, so make your escape beforehand!
Monster girls might join up to assault Youki too! As the gauges rise, escape becomes harder and harder!
4) When things have calmed down, take a rest by standing still, and you'll heal.
[D-gate Collab! Succubus Lady Niala! ]
The R18+ additional stage boss. She made Youki small at stage start, and she's the boss too! While flaunting her stuff, she comes at Youki! How is Youki gonna win this one!?
DOWNLOAD
Google Drive – MEGA – MegaUp – Mediafire – WorkUpload – Pixeldrain – Gofile – Uploadhaven – Anonfiles – Uptobox – 1fichier – MixDrop