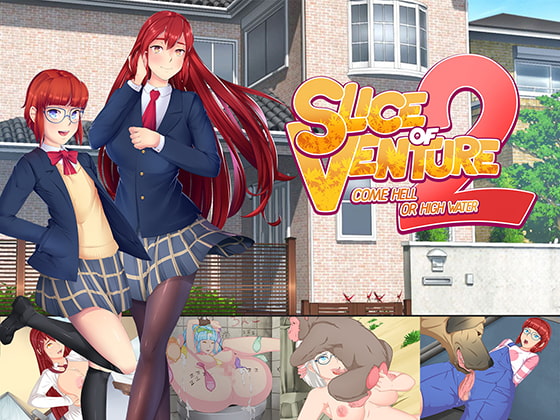 Slice of Venture 2: Come Hell or High Water Free Download with Direct Links, Google Drive, MEGA, Torrent.
INFORMATION
Title: Slice of Venture 2: Come Hell or High Water
Circle: Blue Axolotl
Release date: May/30/2021
Latest update: N/A
Version: V1.2
Language: English (Official)
Censored: No (Uncensored)
ABOUT THIS GAME
Slice of Venture 2: Come Hell or High Water Free Download with Direct Links, Google Drive, MEGA, Torrent.
(English production description provided by the circle)
Yuki and Ayame are back for a new adventure!
Eri, the famous porn star, will need their help to fight against a big porn company CEO who's hunting her down. If it wasn't enough, their last trip to their uncle farm changed Reiko, their mother.
She has more and more trouble keeping her true self hidden from her husband. Will the sisters manage to prevent their family from imploding?
# Game #
– Enjoy a game completely thought to be used with a mouse.
– You need to gather 500 Million Yens in 60 days! Shoot porn videos to sell them on the Internet to get as much money as you can before the deadline.
– Try the recipe system! Find sexual elements, mix them together to try to find ideas for your shooting sessions!
– The sisters now have stats! Raise their stats through different activities (having sex, browsing Internet, reading, solving quests…) so they can shoot more and more hardcore scenes!
– You're afraid you can't see all the game's content before the last playable day? It's normal, the game features an endless mode! Finish the game with the good ending and you'll be given endless time to unlock all the remaining scenes of the game.
– Collect the 50 trophies and the 120 trading cards of the game!
– Unlock 20 different places to visit, solve many side quests, meet a varied cast of characters, enjoy mini
– Games… You won't have the time to get bored. You'll have more than 10 hours of gameplay if you want to unlock everything!
– Keep track of every collectible and scene unlocked thanks to the status windows!
# Look #
– All pixel characters, be them NPCs or main characters, were crafted by a pixel artist. The game even includes a few animated pixel scenes.
– Each main character (9 in total) possesses a full-size sprite used during conversations to reinforce the implication of the player. The sisters even have 4 different clothes sets depending on the situation!
– Items, elements, icons… They're all custom-made.
– Even the music was selected carefully through the work of Sherry Arts and Studio Kannazuki to avoid using the base RPG Maker music.
# Hentai #
– Enjoy more than 175 different hentai scenes spread through over 1300 pics!
– All your favorite niche kinks are back! If you liked Slice of Venture, you'll LOVE Slice of Venture 2!
– The more you play the kinkier it gets. The most extreme scenes are rewarded to the motivated players who'll finish the game!
– You don't like scat? No worries, the game is built so that you can't see those scenes unless you ask for them!
– The game features two different gallery systems allowing you to re-watch all the scenes you've unlocked!
– The game features the 1.2 update that include:
– Reworked old pictures (more than 200)
– New H pics (more than 350)
– New scenes (more than 30) – Tweaking, corrections, easier progression and many small things to make the experience smoother
DOWNLOAD
Google Drive – MEGA – MegaUp – DooDrive – Pixeldrain – Mediafire – WorkUpload – Uptobox – 1fichier – Anonfiles
Bugs Fix: Gofile (copy to game folder)