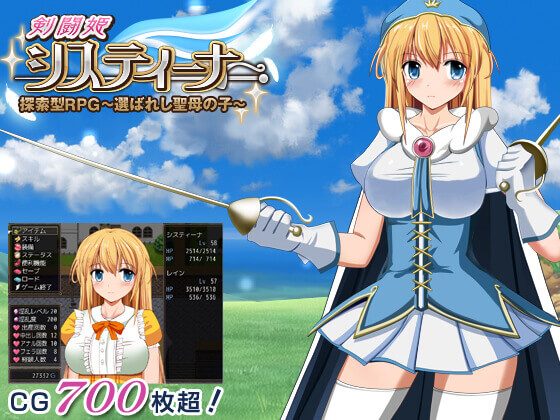 INFORMATION
Release Date: 2018-10-23
Developer/Publisher: Doujin Circle Gyu!
Censorship: Yes
Version: Final
OS: Windows
Language: English
Voices: Japanese
ABOUT THIS GAME
Title:
Sword Princess Cistina – The Chosen Saint
*-/*\-* A high fantasy RPG about times of old *-/*\-*
Indie roleplaying from Gyu, to you!
Story:
One thousand years ago, a murderous demon god called Loft opened
the gate between the demon realm and the human world and began a great genocide.
He was stopped by the holy hero, St. Orianne.
But now, one thousand years later, Loft has been liberated, and
the gate opens once more!!!
Characters:
Cistina
The empress of Lorelle castle, skilled with a rapier sword. Known as the Sword Princess.
Luis
A young boy who lives in the town of Lorelle. Cistina's playmate in childhood. Weak in battle.
Lain
Luis's friend who grew up in the slums. Short tempered and fiercely strong.
Ganash
Descended from St. Orianne. Has the holy power to close the gate.
Live the Hero
A powerful human whose kind is only born once every 300 years.
Loft
A power demon god who committed genocide on humanity 1000 years ago.
He is free again, and intends to finish the job…
The Kamimiya
Loft's minions, a group of four subservient demons.
So many ecchi types:
Mother-daughter team
Netorare
Pregnancy & birth
Prostitution
Stripping
Brothel/bordello
R*pe
Analingus
Interspecies sex (orc, tentacle, ghoul, etc.)
Human sex ( bandit, fighter, warrior, etc.)
Orgy sex/gangbangs
and more
* All H custscenes come in 3 variations (standard, lewd, pregnant) with text and CG variations)
* Classic Gyu! stress-free fast progress gameplay
* Virgin and group sex endings, etc. are included
So many features:
47 CG base images
Over 700 visual assets
18 kisekae outfits (costume changes)
Ero flashes
Dancing treasure
Fail-state H cutscenes right on the battle screen
Current status displays for p*ssy and anus, with dynamic color and shape change
Convenient "knowledge" system (titles display who's a virgin or not, who you can sleep with, who's a prostitute, etc.)
Kisekae ecchi mode (Q key) — a mini outfitting and teasing game with features that gradually unlock
Lewdness leveling system — do obscene things 10 times, level up your lewdness!
Customizable battle/field music, character names, game window design, etc.
Pose art options
You can toggle pubic hair, wink, put on glasses…
Status is reflected in outfits
CG appreciation mode, replay mode
and more
Created by Gyu
Note from the creator:
I was able to put everything I wanted into this game.
You may see it in the functionality, but I believe the story is also rich.
As I have said on my blog, recent ero RPGs have robust storylines.
Gyu feels this is a good thing. Story is critical. It's an ero GAME.
What I'm getting at is, Gyu doesn't necessarily want to make porn.
There is plenty to masturbate to, but after that, there should be more.
The story of Sword Princess Cistina has comedy and drama, and erotica.
RPG is about adventure. Wank games and f*ck games can be RPGs, but leave something to be desired.
In this case, I wanted to make a classic RPG set in mystical olden times.
It's not a wank game. It's an ero game that I trust will leave you satisfied.
Please, enjoy the journey of Cistina, the chosen one.
DOWNLOAD
Google Drive – MEGA – Uptobox – Rapidgator – MegaUp – Letsupload – Filerio – Racaty – Userscloud – Uploadhaven – Uploadhub