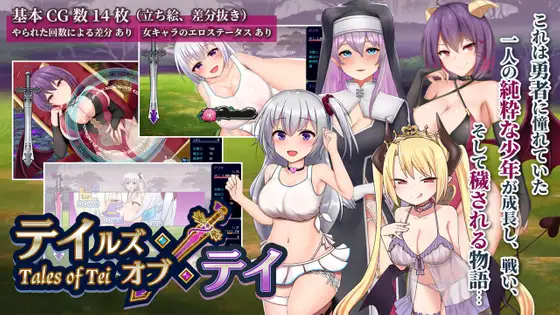 TeiTei ~Tales of Tei~ Free Download with Direct Links, Google Drive, MEGA, Torrent. Specific events triggered by virginity loss, number of times defeated, and the story route you have taken! Enemy succubi will change their behavior depending on the player's actions and experience.
We have, of course, implemented in-battle erotic attacks and restraining.
Enjoy the lewd fully voiced sex scenes, and the variants in all their glory!
Comes with the Succubus Specialty. LEVEL DRAINING! If you cum, then succubi will drain you of your abilities and levels. Also, in some situations where you have been restrained, the succubi may be able to drain you regardless of whether you cum or not…!
You will need to take care not to allow the succubi to become TOO strong…
otherwise you may find yourself as nothing more than a mere cum tank!
Erotic Parameters Implemented. Your level of sexual experience will alter how the succubi think of you! You can also always check how many times you have had sex with each character.
Title: TeiTei ~Tales of Tei~
Developer: Pinchmaker
Publisher: Pinchmaker
Release date: 21 May, 2022
Version: 1.19
Language: English (Fan Translate by sportsfan30)
Censored: Yes (Mosaics)
Store: DLsite