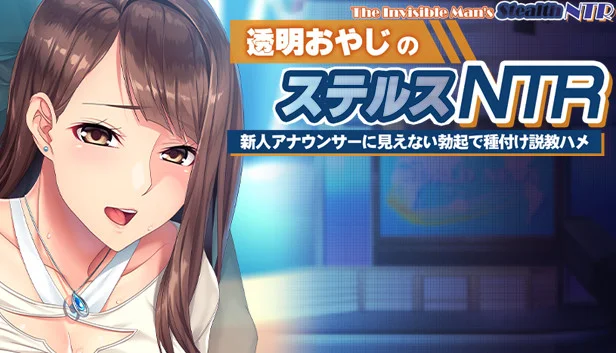 The Invisible Man's Stealth NTR: Convincing and Inseminating the New Announcer with an Invisible Boner Free Download with Direct Links, Google Drive, MEGA, Torrent. Unpopular with women and stuck working a crappy job, Takumi Tsuge sees no point in living. The one who saves his life is the new announcer Yuki Konoe.
She publicly declares that she's single, and she's unapologetically self-assured in her handling of men and the barrage of dirty comments she receives.
Upon seeing her live her life as a virgin who's passionate about her job, Takumi feels like he can accept his own way of living.
It's because of her hard work that he's able to go on.
That is how dependent Takumi was on Yuki.
However, one day, he finds out the truth.
Far from Yuki being a virgin, she has quite an active sex life.
Upon learning the truth, Takumi is inconsolable, and he even finds himself starting to consider ending it all
when a door-to-door saleswoman turns up at his home.
"Hey, Tsuge. Want all your desires as a man to be granted?
The moment I saw you, I knew you'd be a great candidate… for this invisibility serum…"
Takumi gives the sketchy saleswoman everything he has in exchange for a drug that promises to turn him invisible.
Having already given up on life, he plunges the needle into his arm without much thought.
(It's not like it'll work anyway. There's no such thing as an invisibility serum.)
Or so he thought…
Title: The Invisible Man's Stealth NTR: Convincing and Inseminating the New Announcer with an Invisible Boner
Developer: Appetite
Publisher: Tensei Games
Release date: 24 Jun, 2022
Version: Final
Language: English (Official)
Censored: Yes (Mosaics)
Store: Steam