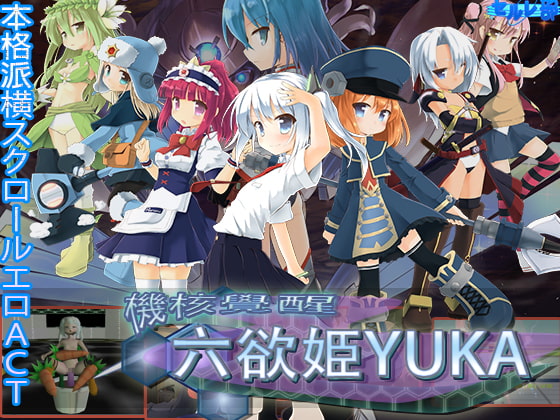 Core Awaken ~HexDesire Princess YUKA~ Free Download with Direct Links, Google Drive, MEGA, Torrent.
INFORMATION
Title: Core Awaken ~HexDesire Princess YUKA~
Circle: Serurebu
Release date: Nov/28/2017
Last updated: N/A
Version: V2.01
Language: English (Official)
Censored: Yes (Mosaics)
ABOUT THIS GAME
Core Awaken ~HexDesire Princess YUKA~ Free Download with Direct Links, Google Drive, MEGA, Torrent.
[Story]
With the development of science and technology,
a kind of robot slave is invented by humans. But one day,
the robots have started to fight for
their own nation with self consciousness after their cores are awaken.
But Yuka, an awaken robot, has decided to help humans terminate the robots' rebellion.
[About This Game]
This is a 3D Action Game with the following levels of difficulty:
Standard: Even those that are not used to action games can enjoy.
Advance: Intermediate Level.
Expert: Expert Level.
No Future: For the best of the best.
* Clothing has a durability parameter. Once it reaches 0, it will be destroyed.
* When the enemy's lust gauge fills up, they may performed erotic attacks.
The attack type will differ by enemy: Tentacles, forced masturbation, egg laying, etc
* If your HP reaches 0, it's GAME OVER. (If YUKA is defeated in a Boss Battle,
then an upon-defeat violation scene / CG will be displayed relative to the Boss.)
* There are 7 usable characters with more planned to be added on update.
They each have their own individual battle styles and erotic elements.
* Develop your base, strengthen your machine, gain skills, improve your special attacks,
explore random dungeons and other such replayability full elements.
* Machine Damage System: Upon receiving erotic attacks, your machine will take damage.
There are various demerits to taking damage. Use resources in the base to repair.
* KAKIN Point System: You can use these points to unlocked features
like "Unlimited Revives" and "Unlocked 100% of Scenes"
but you don't actually have to KAKIN (pay additional money)
(It's like a in game meta referring to out of game KAKIN style, pay to win play.)
[System]
* 7 usable characters (including YUKA). The characters in the main sample image.
YUKA / RURUMU / KOYUKISEI / W'SYS / NASHI / KOMORI / JILELEN
Each with different kinds of weapons and play styles.
* Strengthen their frames from a selection of 6 different parameters.
* Special Attack / Enhancement System.
When you defeat bosses you will receive Battle Chips that can be used to
gain new Special Abilities. Gain experience during battle to enhance.
* Fin Record Collection
Find the fragments of data containing information about the incident at hand.
They are spread throughout the game stages.
[CG Contents & Real Time H]
Main Story HCG x 16
Fin Records x 6 (all animation illustrations)
Real Time Erotic Scenes: 25+ patterns
DOWNLOAD
Google Drive – MEGA – MegaUp – WorkUpload – Pixeldrain – Gofile – Uptobox – 1fichier – MixDrop