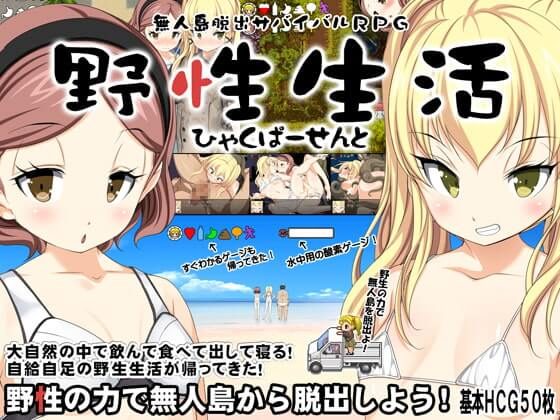 INFORMATION
Release Date: 2018-03-09
Developer: Crotch DLSite
Translator: KinkyDF
Censored: Yes (Partial)
Version: 0.3 Updated
OS: Windows
Language: English
ABOUT THIS GAME
One day, Claris receives a mail from her aunt Charlotte,
evoking nostalgic feelings in her mind. She soon set her
mind to visit Charlotte with her maid Mary.
These two girls are looking for a short but joyful trip…
The airplane they got on however, suddenly malfunctions
and it causes them to be thrown out and fall into the ocean…
Later on they get drifted onto an uninhabited island
without any severe injury… somewhat fortunately.
An isolated island floats alone in the aquatic desert with no
people nor civilization… But they have to eat and drink to survive…
The great nature subjects them to an ordeal of endurance.
Throughout the life on the island, their hidden wildness is to be awakened…
Escape From Uninhabited Island: Survival RPG ~100% Living Wild~
* 50 base HCGs
[Life on the Island]
There are many probably edible things scattered around the island.
Eat a lot and defecate a lot whenever getting hungry!
* Want to make something…
Use Claris' ability "Making Things" to make items with her recipes!
* Not motivated enough…
Just eat, drink and take it easy!
Motivation can follow after!
* Mary hardly brings valuable things…
Mary only brings garbage to you. Never count on her!
* For what can an old man be useful?
He won't be useful except c*ck-related imagination!
[Dress-Up]
Pose Art On / Off selectable in "Skill" in each character.
Bars in the upper left corner of screen (from the left side):
"Wildness" "Health" "Moisture" "Hunger" "Feces" "Urine" "Stamina"
* They share the stamina bar.
"Wildness (pink)": Increases in battle and the presence of an old man
"Health (red)": Increases by eating and sleeping
"Hydration (blue)": Increases by drinking something
"Fullness (green)": Increases by eating
"Feces (brown)": Increases by eating
"Urine (orange)": Increases by drinking something
"Stamina": Increases while she has a rest
(The color of bar frame represents temperature. It's cold and Urine bar
increases when blue / It's hot and Feces bar increases when red)
[Underwater Action]
When diving into the water only "Oxygen bar" appears in upper screen area.
Running out of the Oxygen bar instantly causes a game over regardless of remaining health.
[Bad Status Effects]
"Knocked Out": Health bar is zero (game over).
"Starved": Hunger bar is zero. Eat something.
"Dehydrated": Hydration bar is zero. Drink something.
"Food poison": She ate something bad. Sleep longer.
"Stomach ache": She ate something bad. Defecate or sleep.
"Muddy": Covered in mud. Have a bath in the sea.
"Sperm": Sullied with sperm. Have a bath in the sea.
"Wet": She wet herself. Have a bath in the sea.
"Stool": Pooped in her panties. Have a bath in the sea.
* If the protagonists HP reaches 0 in battle = Game Over. Take care!
* Requires RPG TKool VX Ace RTP: http://dlsite.jp/RPGTKool_eng/
DOWNLOAD
Google Drive – MEGA – Uptobox – Rapidgator – MegaUp – Letsupload – Uploadhaven – Filerio – Racaty – Uploadhub – Torrent