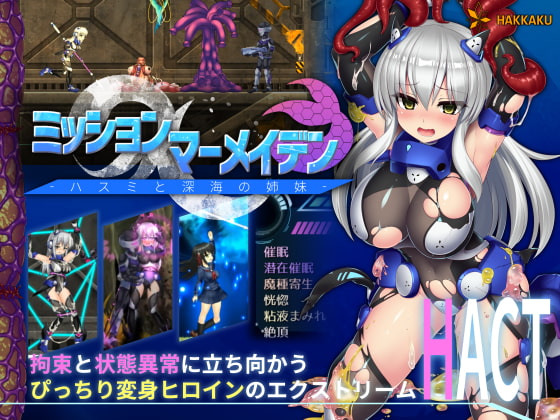 Mission Mermaiden Free Download with Direct Links, Google Drive, MEGA, Torrent.
INFORMATION
Title: Mission Mermaiden ~Hasumi and the Deep Sea Sisters~
Publisher: hakkaku
Release: Jul/29/2020
Last Modified: Aug/20/2020
Version: Final
Language: English (MTL)
ABOUT THIS GAME
Mission Mermaiden Free Download with Direct Links, Google Drive, MEGA, Torrent.
Story:
In the year 2101 AD, Hasumi is sent on a mission to a far-away land in a world ravaged by alien invasion.
She's to confirm the existence of a rumored bioweapon in the Karimantan Jungle.
It seems like an easy enough mission, but…
Game Overview:
* Light action and attacks that bind!
Vibrant, animated attacks that see your heroine in full motion!
That is, until she's attacked herself and rendered immobile by confining assaults!
Sticky fluid, parasites, hypnotism, and more will keep our heroine locked in place
unless she can manage to break free!
* Statuses stick after clearing a stage!
Hypnosis, sticky slime, parasitism — it all stays even if she's already suffering from another effect!
Can our fighting heroine fight on if she's hampered by sexy status effects?
* Set in a jungle and an underground research center wriggling with grotesque monsters!
Fearsome flowers, malicious machines, and lecherous lesbians await
as Hasumi ventures through three different stages to complete her mission!
– About transferring save data from the trial version –
Currently, save data can be transferred, but future updates may invalidate this feature.
Data is saved to the C Drive, so there's no need to move it.
– For those using game pads –
If you don't like moving the stick back and forth, turn on auto-resist in the options menu.
-If the sound doesn't play –
Sometimes the volume will change to zero automatically on the first launch.
in this situation, please restart the game and check the volume in the options menu.
Default settings: SFX: 80, Voice: 100, BGM: 30
DOWNLOAD
Google Drive – MEGA – MegaUp – LetsUpload – WorkUpload – Racaty – Pixeldrain – Gofile – Uploadhaven