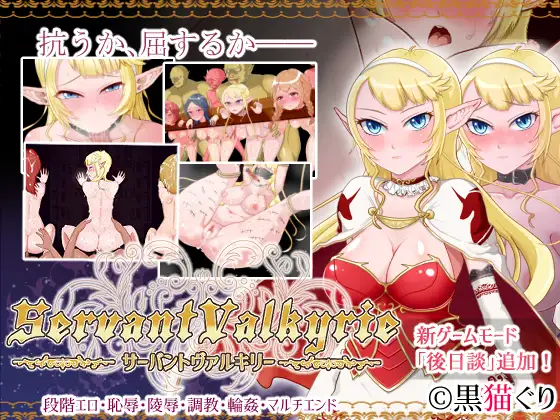 Servant Valkyrie Free Download with Direct Links, Google Drive, MEGA, Torrent. Dietlinde is a highborn female knight. They take the kingdom army to fight the emperor army, and was defeated.
She is taken into the underground "Valhalla" facility…
What awaited the defeated female knight was endless days of lewd labor…
Humiliation, violation, corruption, and more from a female perspective in this multi-ending RPG!!
Lots of erotic play, right from the beginning of the game!
Erotic status effects and levels; 4 status types.
Multi-scenario and multi-endings!
Title: Servant Valkyrie
Developer: kuronekoguri
Publisher: kuronekoguri
Release date: 29 Mar, 2019
Version: 1.12
Language: English (Fan Translate by SpawnyS)
Censored: Yes (Mosaics)
Store: DLsite
1.12
Fixed the flag setting bug of masturbation and whore end.
Fixed the bug of virgin/non-virgin notation after clearing.
Fixed other minor bugs.
Translation: DL + MTL + Manual …. Heavily Edited
Translation 90% or higher
Looking for people to test and play through…
because of the scale and size of the game
There may be Errors
1.Grammatical correct sentences ( I need to play through all of it to edit on the go)
2.Untranslated Parts ( Some Menus aren't getting translated , even though I have translated . Working on it )
3.Possible JS errors (Haven't encountered so far)
Untranslated Parts
1.Only the Questions to the Old Butler (Answers Translated)
2.Q&A Guide Book Questions (Answers Translated)
3. Map Questions (Answers Translated)
Screen Fix
(Copy file into System folder)