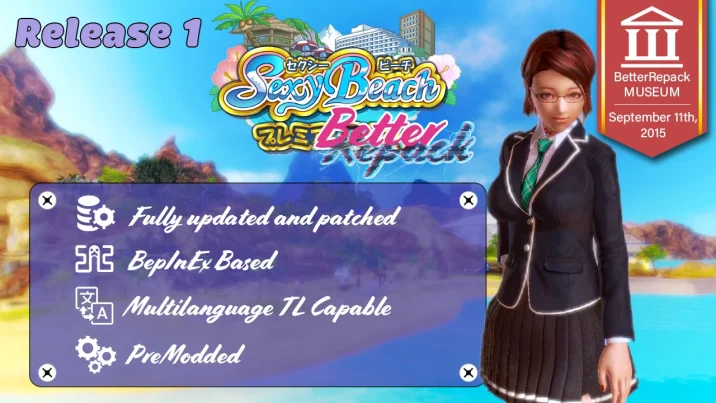 Sexy Beach Premium Resort BetterRepack Free Download with Direct Links, Google Drive, MEGA, Torrent. Sexy Beach Premium Resort (Sexyビーチ プレミアムリゾート in Japanese) is the latest, fifth installment in Sexy Beach series of eroge by Illusion, released on September 11, 2015 with preliminary support for VR (Oculus Rift). You start on the island, helping Nagisa (pictured) manage the small hotel, using the income to upgrade it and spend money on your character and many heroines from other Illusion games. Player character and custom heroines are fully customizable from the start. Heroines give you different tasks which you must complete in order to win them over and receive (non-)sexual favors in return (such as customization of Illusion heroines). The game also includes simple survival system, fighting with unarmed opponents and several mini-games.
Name: Sexyビーチ プレミアムリゾート
Developer: Illusion
Release Date: 11 Sep, 2015
BetterRepack by: ScrewThisNoise (Patreon)
Better Repack publisher: Otomi Games
Better Repack version: R5 (16 May, 2022)
R1
Added Base Game
Added Official Update sbpr03plusstudio
Added Official Update sbpr03plusstudio1218all
Added Official Update sbpr03plusstudio_or
Added Preorder sbpr_souki
Added Preorder sbpr_yoyaku
Applied Male and Female Uncensor
Added English Translation by Narutomater1994
Added BepInEx v5.4.19 x64
Added BepInEx v5.4.19 x86 (*)
Added BepInEx.ConfigurationManager v16.4
Added BepInEx.EnableFullScreenToggle v1.0
Added BepInEx.EnableResize v1.5
Added BepInEx.GraphicsSettings v1.2.1
Added BepInEx.InputHotkeyBlock v1.4
Added BepInEx.MessageCenter v1.1.1
Added BepInEx.MuteInBackground v1.1
Added BepInEx.OptimizeMGUI v1.0
Added IPALoaderX v1.2.4
Added XUnity.AutoTranslator v5.0.0
Added BepInEx.CatchUnityEventExceptions v1.0
Added HideAllUI v2.3.2
Added DeathWeasel's SPBR_Autosave v1.1.1
Added GeBo's SBPROptimizations v1.0.0
Added Horse's ScriptLoader v1.2.4
Added Marco's FPS Counter v3.1
Added Marco's RuntimeUnityEditor v2.6.1
Added GGmod v0.0.1 (IPA)
Added MaleEnhancer v0.5.0 (IPA)
Added PPControl (IPA)
Added Shortcut Plugin v2.1 (IPA)
Added dnSpy 6.1.5 (**)
Added enimaroah's SB3U v22.1.1 (**)
Added Marco's KKManager v0.19.0
Added Misc Clothing mods
Official Release by Otomi Games
About Museum packs and support
Museum packs are tested to the best of my ability, but will sometimes carry instabilities due to the nature of making packs for older games using really picky old japanese engines.
I do take reports about problems, but I may not be able to fix it. Communities for Museum packs are either super small or straight up nonexistent, so don't really often have many other users to lean on for really troubleshooting, and problems may just be "this game meant for windows xp, you windows 10, I die now" or "oooh, shiny new space age hw, I don't like it, I'm gonna go die now" and nothing much I can do about that.
Only guarantee when releasing a Museum release is that I managed to get it running in a sufficiently stable state on my setup, 2 different machines with differing hw, both windows 10 ( it runs on my machine ™️ )
TLDR: Support is given on a best effort for museum releases, but may or may not be efficient in solving any problem that arises