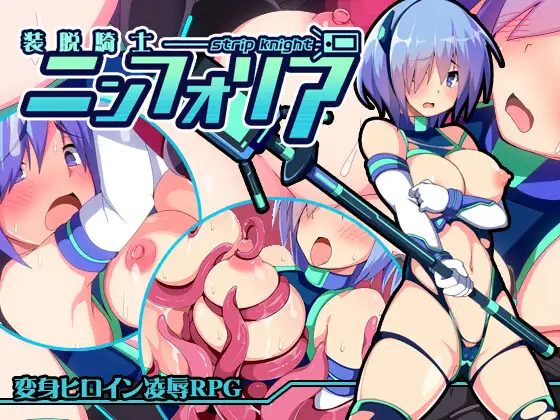 This is the story of a plain and unremarkable girl who fights against evil organizations using her secret fetish as a weapon. The protagonist, Fumika Ichijo, witnesses her friend being kidnapped by an evil organization one day. From then on, she becomes a magical girl fighting against evil.
Nymphoria is a magical girl who transforms the power of her shame into strength. The more damage her suit takes from fighting against spies and monsters, the stronger she becomes, but at the same time, she loses her maidenly innocence.
If she loses in a battle, she will be humiliated and sexually violated by the evil organization.
To avoid losing to evil, she goes out into the town to train and accumulate the power of shame!
She encounters molesters on a train while not wearing any underwear, is targeted by cosplay otaku at a cosplay cafe, and has her school exposure revealed to her classmates who then ask her for lewd favors. Various lewd events stand in Nymphoria's way!
Title: Strip Knight Nymphoria
Developer: midnight pleasure
Publisher: midnight pleasure
Release date: 25 Mar, 2023
Version: 1.06
Language: English (MTL)
Censored: Yes (Mosaics)
Store: DLsite