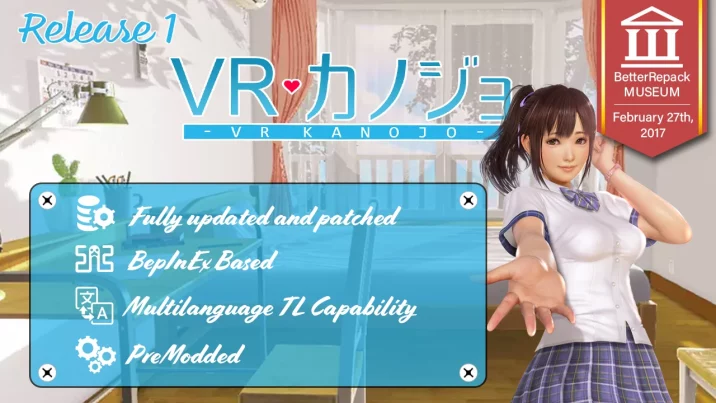 VR Kanojo PC Free Download with Direct Links, Google Drive, MEGA, Torrent. Initially described as both a Summer Lesson ripoff[2][3] and the successor to Illusion's own 2010 game REAL Kanojo,[1] VR Kanojo gives the player a virtual girlfriend and several scenarios with which to spend time with her.
INFORMATION
Name: VR カノジョ / VR Kanojo
Developer: Illusion
Release Date: Feb 28, 2017
BetterRepack by: ScrewThisNoise (Patreon)
Better Repack publisher: Otomi Games
Better Repack version: R1 (Jan 29, 2021)
BetterRepack Website – Official Developer Website
ABOUT THIS PACK
Version R1 (Jan 29, 2021)
Applied Base game (Steam version, includes support for English, Japanese and Chinese. Editable in the ingame settings)
Applied R18 patch (Official)
Applied compression to base game files
Added BepInEx v5.4.5
Added BepInEx.ConfigurationManager v16.1
Added BepInEx.MessageCenter v1.1.1
Added BepInEx.MuteInBackground v1.1
Added XUnity.AutoTranslator v4.13.0
Added 0xd4d's dnSpy 6.1.5 (**)
Added enimaroah's SB3U v21.0.3 (**)
Added Horse's ScriptLoader v1.2.4
Added Keelhauled's GraphicsSettings v1.2.1
Added Marco's FPS Counter v3.1
Added Marco's VRK_PlayWithoutVR v1.0
Added Marco's VRK_UncensorLoader v1.0
FROM AUTHOR
This game doesn't utilize the "normal" way Illusion stores configurations, as such the launcher requires a lot of rework to get working properly for this game. I will get back to that at a later time to allow for the normal uniform experience, but for now, hold shift while opening the game to reach resolution options, and all other options can be changed ingame.
DOWNLOAD
Google Drive – MEGA – MegaUp – LetsUpload – WorkUpload – Pixeldrain – Gofile – Uploadhaven