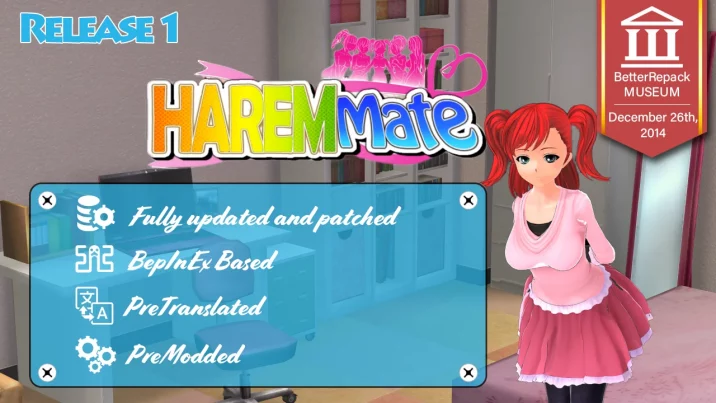 Harem Mate Better Repack Free Download with Direct Links, Google Drive, MEGA, Torrent. Harem Mate Better Repack is an eroge created by the Japanese H-game company Illusion. The game was released on December 26, 2014 and focuses on H with multiple girls. HaremMate is also the first Illusion to use Unity game engine, followed by the same company's Play Club, released in April 24, 2015.
INFORMATION
Name: ハーレムめいと / HaremMate
Developer: Illusion
Release Date: December 26, 2014
BetterRepack by: ScrewThisNoise (Patreon)
Better Repack publisher: Otomi Games
Better Repack version: R1 (Jan 27, 2021)
BetterRepack Website – Official Developer Website
ABOUT THIS PACK
Version R1 (Jan 27, 2021)
Applied Base game
Applied official update hmate_02_plusstudio
Applied Preorder DLC すくぅ~るメイト 由芽セット
Applied Preorder DLC 極エロ水着
Applied official update hmate_02_plusstudio_all0130
Applied Paid DLC ハーレムめいと 追加衣装スクールセット (Additional costumes)
Applied compression to base game files
Applied translations from HF-Patch
Translated remaining image assets
Generated updated machine translation
Added BepInEx v5.4.5
Added BepInEx.ConfigurationManager v16.1
Added BepInEx.MessageCenter v1.1.1
Added BepInEx.MuteInBackground v1.1
Added XUnity.AutoTranslator v4.14.0
Added 0xd4d's dnSpy 6.1.5 (**)
Added enimaroah's SB3U v21.0.3 (**)
Added Horse's ScriptLoader v1.2.4
Added Keelhauled's GraphicsSettings v1.2.1
Added Marco's FPS Counter v3.1
FROM AUTHOR
This game wasn't the easiest to get going, due to the old unity version amongst other things. So this release has hardmod translated images. I've bundled the original japanese files in the BRExtras folder so that it's possible to revert the pack to japanese, but out of the box, it's english only unfortunately.
DOWNLOAD
Google Drive – MEGA – MegaUp – LetsUpload – Pixeldrain – Gofile – Uploadhaven
SYSTEM
System Requirements
Minimal
Recommended
OS
Windows Vista / 7 / 8 / 8.1 (32-bit / 64-bit)*
Windows Vista / 7 / 8 / 8.1 (32-bit / 64-bit)*
CPU
Intel Core 2 Duo 2.6 GHz
Haswell-based Intel Core i5
RAM
2 GB
4 GB
Disk Space
7 GB
9 GB
DirectX
DirectX 9.0c
DirectX 9.0c
GPU
512 MB
1 GB
Misc
DVD-ROM
DVD-ROM