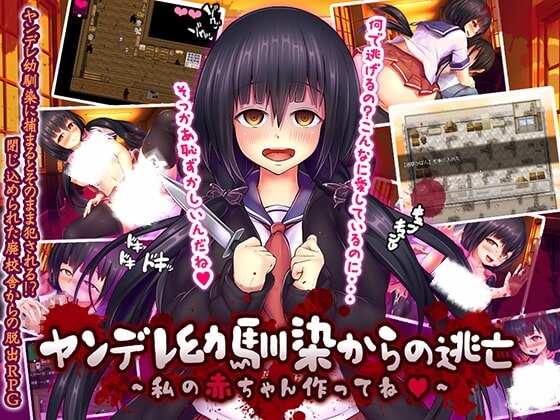 INFORMATION
Release Date: 2018-09-12
Original Title: ヤンデレ幼馴染からの逃亡~私の赤ちゃん作ってね~
Developer: QRoss
Censored: Yes/Mosaics
Version: Game 1.1.1, Translation 0.15
OS: Windows
Language: English (Edited Machine Translation)
Translator: masterdragonson
ABOUT THIS GAME
[Synopsis]
The protagonist's childhood friend Aina is a bright and service-minded girl.
They were as close as they once regarded each other as future partners.
Called by Aina, he visits her room but he doesn't find Aina there.
At that moment he gets hit on the head and falls unconscious.
He wakes up on a roof floor of a ruined school building.
He tries to go out but the door is locked. While he looks
around for an exit, Aina appears and says:
"It's your fault. You interacted with other girls despite
the FACT that you promised that you'll marry me…"
When Aina shows her true colors, he tries to escape from the school building
for fear of being killed. However, it is not easy to go out as doors are locked.
Running from Aina, he heads to the entrance on the first floor.
[Genre]
Escape RPG
[System]
* Exploration & Escape
The game is to walk around and look for "keys" to go downstairs.
Solve gimmicks in classrooms to get items that lead to keys.
* He cannot solve gimmicks while chased by Aina.
* Alert System
While exploring the school building, the color displayed on his smartphone changes.
The colors indicate the risk of Aina's appearance.
Green: normal
Yellow: caution
Red: danger
Heart: Aina's here
* Hide & Seek
When the alert system shows Aina's here, she chases him to capture.
There are places to hide for 10 seconds in classrooms.
When he gets caught, he will be r*ped.
DOWNLOAD
Google Drive – MEGA – Uptobox – MegaUp – Uploadhaven – Filerio – Workupload – Racaty – Mediafire – Bayfiles