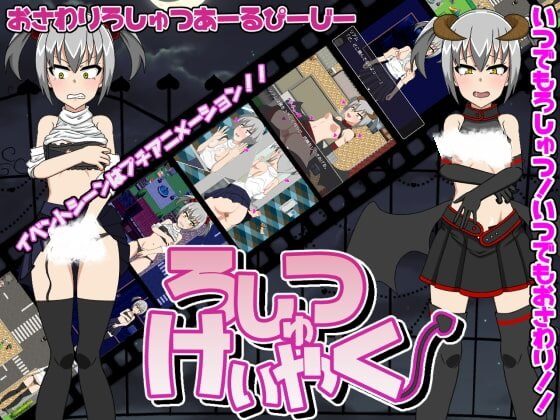 INFORMATION
Release Date: 2018-06-01
Developer: H.H WORKS
Censored: Yes/Mosaics
Version: Final
OS: Windows
Language: English (Edited Translation)
Translator: matthl
ABOUT THIS GAME
Freedom of exhibiting around the town and touching her!!
To strip her off? Or to touch her? You can do whatever with mouse control!!
Retrieve energy (semen) while touching can be done anytime you want!!
* Prologue
A devilish succubus "Liam" descended on the protagonist Yuuichi!!
Liam has made a pact with Yuuichi but later it turns out that Yuuichi
is such a pervert who gets turned on towards nothing but exhibitionism!!
But her purpose to retrieve energy (semen) must be attained so that
Liam unwillingly starts doing exhibitionism plays.
However, she gradually gets into exhibitionism……
* Strip and touch her freely with a mouse!!
– Touch: Click to touch Liam's body
– Grope: Long click to grope Liam's body
– Slap: Push mouse wheel to slap Liam's body
– Move: Drag slowly to put her handbra aside, lift clothes up etc.
– Strip: Right click to put clothes off.
* Main event scenes are animated!!
Animated events happen upon sufficient "sexual training level" and "amount of energy"!!
* Touching feature in some sub-events
Some of the sub-events located around the town employ touching features!
* Affection level and excitement level
Touching Liam and likes change affection level and sexual training level.
Liam's talks and behaves differently depending on affection level and sexual training level!!
* Sometimes she demands it by herself
With enough sexual training level and lewdness level, she comes to demand energy by herself.
Sometimes sneaks into bed, and at other times demands it in public……
Prostitution function
Such as demanding energy (semen) from townspeople, exposing lewdness on the internet…
* Desire to urinate
Drinks are available in vending machines. When you make Liam drink them,
she will have an urge to urinate after a while. She can relieve in restrooms or
public, but if you keep her holding it for a long time she will wet herself.
* Townspeople
Some men in the town chase after Liam as soon as they find her exhibiting.
If touched by one, he starts molesting Liam's body. She cannot take any
actions until he gets satisfied or she successfully tears herself away from him.
Sometimes extra men gather towards her resulting in being molested by a group of men.
You have to be careful even if she is in a building without people because
sometimes they come into the building to assault her.
* Items
There are many items such as rotors, electric massager, vibrators and so on.
Those items can be used to increase excitement level.
* Liam's Independent Activity
With some restrictions, she can solely act. For example, she can tempt men.
* FPS Control
Heavy processing operations such as animations can be adjusted to suit your device.
For example, On / Off breathing motions, adjustable number of NPCs etc.
* Others
Reminiscence mode, Tips NPCs, Casino etc. are available.
* Situations
13 main events, 18 sub-events
– prologue event (H in back alley)
– Pressing breasts against glass door
– Masturbation in public
– Going shopping without lingerie
– In a dark movie theater…
– Rotor play in a cafe
– Masturbation with blindfold in a comic cafe
– Show-off H in a mixed bathtub
– Bukkake in a photo session with middle-aged men
– H in a love hotel with middle-aged men
– Erotic work at casino
– Can't repay a debt, then 'exposing public toilet'
– Exhibitionist moans at the center of a crossroads
DOWNLOAD
Google Drive – MEGA – Uptobox – Rapidgator – MegaUp – Letsupload – Uploadhaven – Filerio – Racaty – Uploadhub
DIRECT LINK (Patreon Only)
[ppp_patron_only level="5″]
Google Drive – MEGA – Uptobox – Rapidgator – MegaUp – Letsupload – Uploadhaven – Filerio – Racaty – Uploadhub
[/ppp_patron_only]