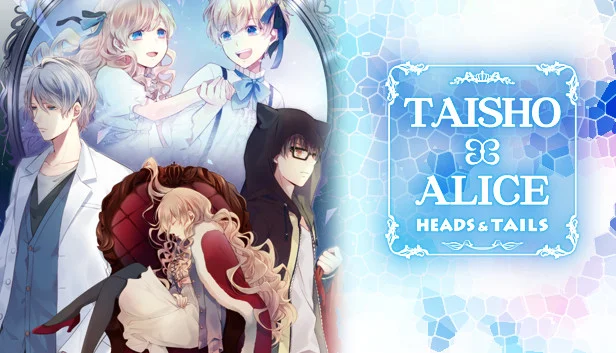 TAISHO x ALICE: HEADS and TAILS Free Download with Direct Links, Google Drive, MEGA, Torrent. Like a coin, TAISHO x ALICE has two sides: the real world and the Looking-Glass World.
HEADS: Enjoy the happily ever afterstories with Cinderella and the gang in the topsy-turvy Looking-Glass World! TAILS: Join Woolfe and Ryoushi to explore the greater mystery of the events that took place in the real world!
Without darkness, there can be no light… It's time to take a peek behind the curtain in TAISHO x ALICE: HEADS & TAILS!
This is a visual novel. As you progress through the story, you will be asked to make choices at key points that will lead you to different endings.
The heroine's first name (Yurika) can be changed.
Some choices will have lasting repercussions, so choose wisely to reach a happy ending!
*During the game, the protagonist's face will be displayed to the left of the text box. (You can disable this in the OPTIONS menu.)
*"TAISHO x ALICE: HEADS & TAILS" can be played as a standalone game.
*It is recommended to play "TAISHO x ALICE episode 1,2,3 and epilogue" before playing this game.
Title: TAISHO x ALICE: HEADS and TAILS
Developer: Primula
Publisher: pencil
Release date: 27 Jul, 2022
Version: Final
Language: English, Japanese, Chinese (Official)
No Sexual Content!
Store: Steam